The weather-protection and thermal insulation properties are structurally separated from one another with suspended back ventilated rainscreen façades. This method of construction is considered to be reliable in terms of construction physics and sustainable. Additional protective functions distinguish this façade system.
Fundamentally suspended back ventilated rainscreen façades can be used for any height of building and also used with any thicknesses of insulation required. Their structural components are the sub-structure, insulation, back ventilation space and the cladding.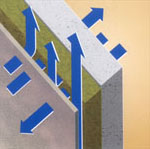 Advantages
VHF guarantees a structural separation of the cladding façade and thermal insulation, and in this way provides sustainable protection against condensation and rainwater.
VHF is the tried and tested method of construction physics for achieving a pleasant climate indoors.
VHF leads to a reduction of energy costs for heating and ventilation etc.
VHF façade constructions show a low number of damages occuring.
VHF is durable, maintenance-free and presents an extremely interesting economical solution for increasing the value of the building.