May 2023
Innovations for the facades of the future
Summary of the "Bau 2023"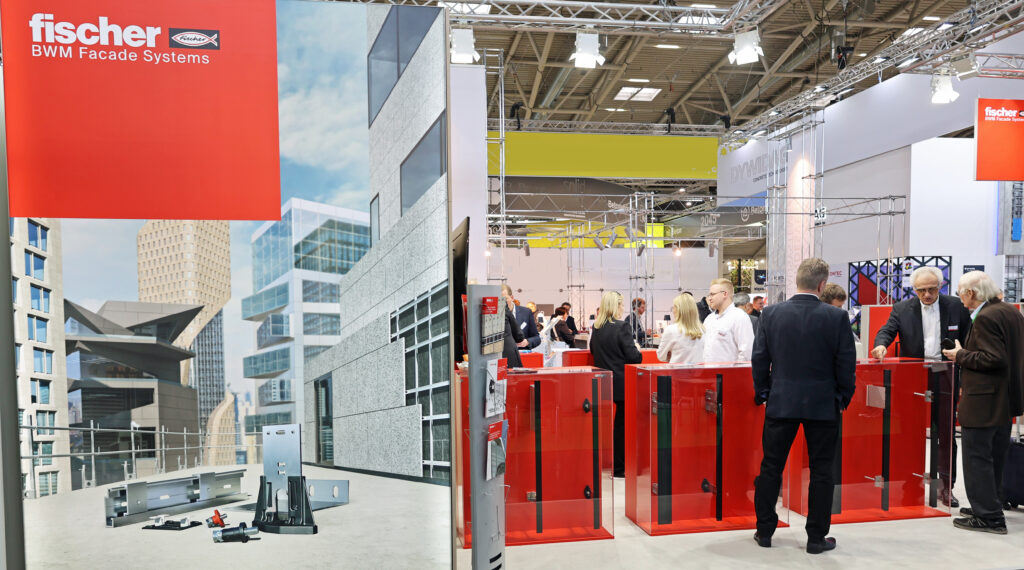 "The BAU fair was very successful for us," sums up Christian Knoll, Managing Director of fischer SystemTec GmbH & fischer BWM Fassadensysteme. "Numerous visitors came to our stand to experience our façade systems live and to find suitable solutions for their applications and projects in conversation with our experts. The personal exchange with our long-standing customers and new interested parties about our product and service innovations as well as current industry trends was very valuable for us." Oliver Fröhlich, Managing Director of fischer BWM Fassadensysteme, adds: "We are very pleased that we were able to welcome a wide range of trade visitors to our BAU stand and convince them of our innovations for modern and sustainable façades. Promising opportunities for cooperation arose from the exchange and we are taking away many new ideas for our range of systems and services." The influx of visitors to the fischer BWM BAU stand was consistently high. More than 60 percent of the contacts recorded were foreign trade visitors who came from 40 different countries.
The complete solutions presented for all cladding materials of ventilated curtain facades (VHF) were well received by the visitors. The feedback on the selected fixing innovations at the fischer group of companies' stand in Hall A1, Stand 329 was also positive throughout. An expression of the merger of fischer and BWM was the exhibitor's appearance in the new fischer design. The uniform appearance created an unmistakable identity for the overarching fischer group of companies in Halls A2 and A1. The presentation made clear to visitors the wide variety of complete VHF solutions and the fixing competence as a VHF system provider offered by the fischer BWM façade systems.
Among other things, the new fischer FLH-R wall bracket aroused great interest at the trade fair stand. The market launch with passive house certificate enables the safe and energy-optimised transfer of loads from the VHF into the anchoring base. The optimised profiling of the wall bracket using the finite element method (FEM) increases the static performance. This enables material savings in favour of improved structural-physical properties, reduced dead loads of the system and a sparing use of resources. The wall bracket can take on various functions as a fixed or sliding point in the tried-and-tested fischer BWM façade systems. Visitors also took the opportunity to see other innovative and high-quality complete solutions for safe and aesthetic VHF installation at the exhibition stand. The exhibited complete system of coordinated products with tested and approved individual components included, among other things, a comprehensive range of substructure solutions for concealed and visible VHF fixing. In addition, the exhibitor was able to talk to guests at the stand about its wide range of services, with which the fischer BWM specialists support planners and façade builders with consulting and calculation services from instruction and installation through all construction phases to the successful completion of the project.
---
November 2018
Theory and practice in intensive dialogue
BWM Fassadensysteme at BAU 2019
"Systems and Structures" is one of the key topics at BAU 2019, from January 14 to 19 in Munich. Appropriately, BWM Fassadensysteme GmbH from Leinfelden-Echterdingen in Hall A2, Stand 338, will present a selection of their classics and the latest developments from their substructure systems for rear-ventilated, curtain façades (VHF).
Vorankuendigung-Messeauftritt-BWM.pdf
---
September 2018
fischer to take over BWM übel und Montagetechnik
Increased focus on sustainable construction
The fischer Group of Companies is increasing its activities in the area of innovative and energy-efficient construction. To this end, the fixing specialist has fully taken over BWM Dübel und Montagetechnik GmbH from Leinfelden-Echterdingen near Stuttgart. fischer will thus enhance its broad programme of innovative fixing solutions with substructure systems for secure and sustainable façades. The two companies worked closely together even before the takeover.
Presseinformation-fischer-uebernimmt-BWM.pdf
---
February 2016
Neubau für Inklusions-Pädagogik auf dem Campus der Uni Potsdam
Vorgehängte hinterlüftete Fassade aus Cortenstahl
Internationale Spitzenforschung von der Biotechnologie bis zur Gravitationsphysik, die Ausbildung des wissenschaftlichen Nachwuchses und forschungsnahe Produktion verbinden sich in der wachstumsstarken Region Berlin-Brandenburg zu einem Standort mit beispielgebendem Innovationspotential. Der Standort mit mehr als 50 Hektar Fläche bietet optimale Bedingungen für namhafte wissenschaftliche Institute, technologieorientierte und forschungsnahe Unternehmen sowie innovative Existenzgründer.
BWM-VHF-für-Campus-Potsdam
---
Decenber 2015
EUREF-Campus in Berlin mit signifikanter Nordspitze
Intelligente Fassadenlösungen für die Stadt von morgen
Das ca. 5,5 Hektar große Stadtquartier um den Gasometer im Berliner Stadtbezirk Schöneberg ist Symbol der Energiewende in Deutschland und Standort für Unternehmen aus den Bereichen Energie, Nachhaltigkeit und Mobilität. Ökologisch und ökonomisch nachhaltige Lösungen machen den Büro- und Wissenschaftscampus – der bereits seit 2014 die Klimaziele der Bundesregierung für 2050 erfüllt – zu einem europaweit einmaligen Zentrum für innovative Zukunftsprojekte. Eine CO2-neutrale Energieversorgung, ein "Micro Smart Grid" zum Energielastmanagement, energetisch optimierte Green Buildings, eine Erprobungsplattform für Elektromobilität, vielfältige Veranstaltungsflächen sowie eigene praxisorientierte Masterstudiengänge in Kooperation mit der TU Berlin und die Ernennung zum Forschungscampus der Bundesregierung sind die zentralen Merkmale des EUREF-Campus.
BWM_Euref-Cambus_Berlin
---
August 2014
BWM Thermal console
certified as a Passivhaus component
The Passivhaus standard for building properties distinguishes itself through very high energy-savings in comparison to conventional new-builds. This saving is achieved by highly-efficient buildings and technical plant and devices in the building. Alongside careful planning of the details, the use of particularly energy-efficient components is a prerequisite.
Zertifikat-Passivhaus-Komponente-Thermokonsole
---
December 2013
Perforated aluminium sheets as a suspended back-ventilated rainscreen facade
for a new School complex in Zagreb
The time of purely purpose-built structures for schools, in which classrooms are clustered together in a battery-like fashion, hallways serve purely as traffic routes and the gymnasiums should suffice merely for physical education, is long since over. Not only in Germany but also in other European countries in the meantime architects design school complexes as "display objects", in which learning should be fun. In attractively designed architectural surroundings pupils from different secondary levels are spurred on to high achievements. The new school complex ALOJZIJE STEPINAC in the Vrbani III District in Zagreb/Croatia is a successful example of this.
Schule-Zagreb
---
September 2013
Building for Children: Puzzle elements as architectural Surroundings
for Games and a joy in Learning
Vrbani in Zagreb/Croatia was built once according to a famous city planning design (sub-division into districts). The Vrbani III District marks out a smaller zone containing a few dozen streets with residential houses with large trees, green areas and clearly defined public areas. Quality awareness, dimensions and logic characterize its spatial lay-out. The new Vrbani III Kindergarten was built here on the last plot of land, which was ear-marked for building a school. The design comes from the architect Davor Matekovic in the Planning Office PROARH in Zagreb.
Kindergarten-Vrbani-Zagreb